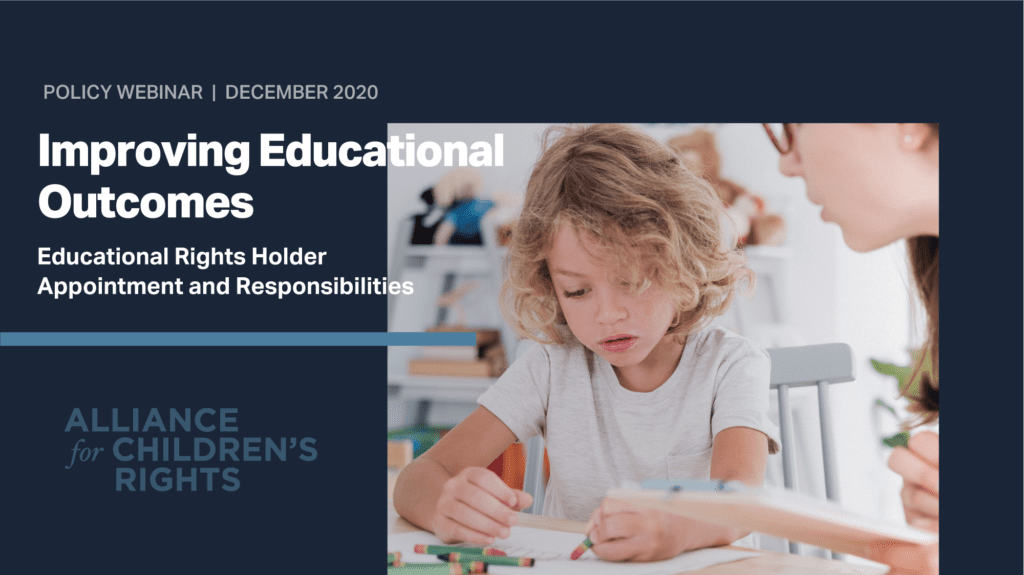 Improving Educational Outcomes: Educational Rights Holder Appointment and Responsibilities
12/10/2020
10:00am PST
2 hours

Every child needs an active and engaged educational rights holder (ERH) to make education decisions from where a child should attend school, to which special education services they might receive, to addressing school discipline, to planning for graduation. In California, children in foster care must have an educational rights holder appointed by the court to assume this role, unless their biological parents have retained those rights. The Judicial Council of California recently updated the ERH forms to make them more clear, comprehensive, and easily utilized. This webinar will focus on the importance of an active ERH, and how to ensure they are appointed for each child. Join us for a discussion of the new forms and how they can play a role in ensuring that child welfare, probation, local education agencies, and ERHs can work collaboratively to support the child's education.

MCLE credit is available.
This webinar provided an overview of the recent changes to law, policies and guidance issued in response to COVID-19 that impact youth in Extended Foster Care (EFC).
Panelists also provided details on the new flexibilities to waive participation requirements, the financial support available to youth who turn 21 during the current fiscal year, and new housing supports and flexibilities in approving housing units to better support those youth re-entering care or transitioning between placements. The webinar covered best practices from the field, practice tips for attorneys, and recommendations to support and address housing stability for youth in EFC and successful planning and transitions out of the EFC program.​