We have to change policy if we want to change the world for children
To more effectively achieve our mission of stability, equity, and justice for all young people across the state, the Alliance identifies systemic issues and barriers that impact our clients, and advocates for broad solutions and improvements through ground-breaking child welfare policy reform.
A bold leader in the field, the Alliance has written and sponsored bills that have positively impacted foster care throughout California, including AB12, extending foster care to age 21.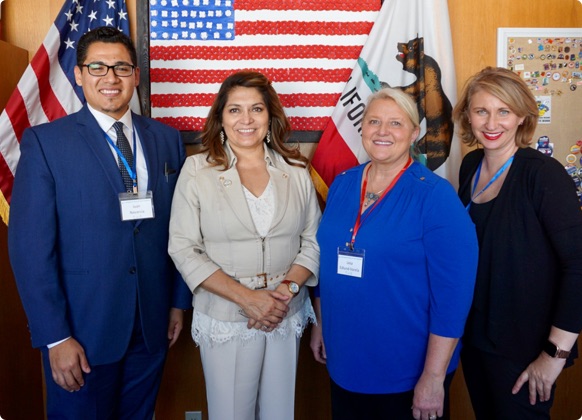 We believe that abuse of children's rights anywhere should
be the concern of people

everywhere

.
Every year, the Alliance works with partners and policymakers to identify important opportunities to reform and improve foster care and child welfare. Our current campaigns include:
Creating a child-centered, family-focused child welfare system for children who cannot remain safely in the home of a parent
 

Supportive Relative Placements
Addressing Hidden Foster Care
Extending Emergency Child Care Bridge Funding



Ensuring educational success for foster youth by increasing educational stability and opportunities for academic achievement



Accessing Compensatory Education



Ensuring that all transition age youth who elect to participate in Extended Foster Care or are aging out of foster care are appropriately and safely housed and have access to appropriate supports and services



Supporting Older Youth Accessing Foster Care
Creating TAY Housing Capacity
Our latest report looks into the adverse impacts of "Hidden Foster Care." Due to a well-intentioned effort to "keep kids out of the system," relatives are frequently encouraged to bypass juvenile court and care for at-risk children outside of formal foster care – often these families end up without the supports and services necessary to address the impacts of trauma. 
Together with our partners, we're evaluating a set of recommendations to better aid these families.
Our current bill priorities:
AB 260 (Stone): Limiting Hidden Foster Care and Better Supporting Dependency Guardianships: seeks to provide due process protections to children, parents, and guardians who are being diverted by the child welfare system to probate court to seek guardianships with willing relatives.     FACT SHEET


 

 

AB 366 (Rubio): Healthy Futures for Foster Youth: extends the infant supplement payments to expectant foster youth three months before the expected birth of the child and creates transparency through additional data reporting.     FACT SHEET

 

AB 549 (Gipson): Supporting Vulnerable Minors in Extraordinary Times: ensures that youth who are nearing their 18th birthday are not unfairly penalized, losing access to critical supportive services including housing, education and medical and mental health services, due to court closures or hearing delays related to backlogs that have built up from extended court closures or delays in social worker investigations related to the pandemic.   FACT SHEET    PRESS RELEASE

 

AB 592 (Friedman): Promoting Stable and Positive Housing in the Extended Foster Youth Program: promotes placement stability and a positive, supported transition to independence for youth participating in the Extended Foster Care Program by:

restructuring the host family transitional housing model to allow families already licensed as a resource family to be eligible to serve as a host family and to divide the Transition Housing Program payment between the caregiver, non-minor dependent and provider; and,


providing targeted safe and appropriate housing and supports to young adults who need additional supportive services, including youth who identify as LGBTQ.
FACT SHEET
SB 234 (Wiener): The SUPPORT Act (Supporting Underserved Young People for Positive Resets and Transitions): creates a forgivable loan program of $100 million to be used to create new housing, or acquire existing housing, for youth between ages 16 and 26, who are currently or formerly in foster care, experiencing homelessness, or under probation supervision.      FACT SHEET      PRESS RELEASE      IN THE MEDIA
The Alliance is a leader in identifying systemic issues and successfully advocating for common sense solutions to ensure children and youth in foster care and their caregivers are provided the critical supports and services necessary to thrive.
Through systemic advocacy at the state and local levels, the Alliance actively engages partners and advocates to elevates both issues and solutions. 
The Alliance is a major player in significant legislative reform of the child welfare system, resulting in improved outcomes for children and youth in foster care and those who care for them including:
2020
Ensuring Continuity of Foster Care Funding for emergency caregivers and securing extended funding for youth in Extended Foster Care as the impacts of the Covid-19 pandemic emerge.
Safeguarding the Family Urgent Response System by ensuring continued funding and implementation to provide children, youth and caregivers with an alternative to law enforcement response during situations of instability.
Achieving the Vision of Extended Foster Care – AB 1979 (Friedman) strengthens housing-related supports in the Extended Foster Care Program to ensure that all eligible youth who opt to participate can live in a safe and stable environment and take full advantage of the transition to independence opportunities.
2019
Establishing a Statewide Hotline and County Mobile Response System
$15 million in 2019-2020 and $30 million ongoing to establish the Family Urgent Response System (FURS), a 24/7 statewide hotline and county mobile response system
Securing Emergency Caregiver Funding at the Time of Placement
Overcame proposal to limit emergency caregiver funding to 90 days through appropriation of $4.1 million one-time funding to ensure emergency caregiver funding is available for 120 days and up to 365 days if the county can demonstrate good cause as to why Resource Family Approval is taking longer than 120 days.
Expanding the Emergency Child Care Bridge Program
$10 million annually to expand the Bridge program and help more foster families and parenting foster youth access child care.
Improving the Child and Family Team Process – AB 1068 (Cooley)
Improves the CFT process by requiring greater communication and planning coordination.
Supporting ICWA Compliance – AB 686 (Waldron)
Supports children subject to the Indian Child Welfare Act and compliance with the Act by allowing telephonic appearances by tribal representatives in court hearings and requiring the county and foster family agency to apply prevailing social and cultural standards of the Indian community when approving a resource family.
2018
Stand with us,
as we stand for them.
Help us protect children's rights today.