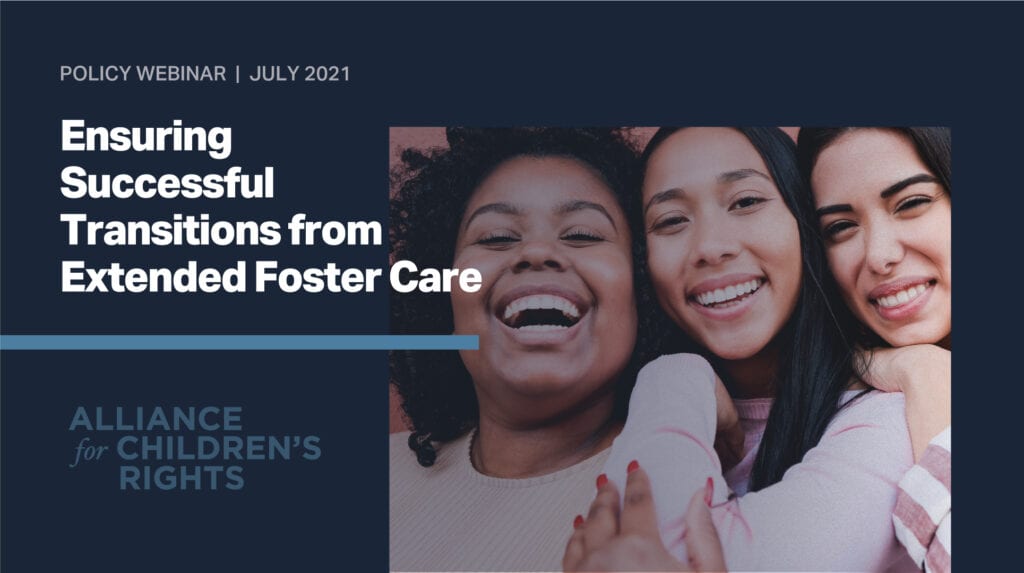 Ensuring Successful Transitions from Extended Foster Care
7/21/2021
10:00am PDT
2 hours

A follow-up to last November's webinar, Modifications to Extended Foster Care in COVID-19, this webinar will share updates to the laws, policies, and guidance that impact youth in and exiting Extended Foster Care, including modified timelines for receiving ongoing support past age 21. Additionally, presenters will share practice recommendations for early, robust, and youth-centered transition planning across several domains, including education, employment, housing, and permanency.
California's Local Control Funding Formula (LCFF) legislation explicitly recognizes the unique educational needs and challenges of serving students in foster care and requires each LEA to develop a Local Control and Accountability Plan (LCAP), including goals, actions and funding for youth in foster care. While some LEAs are required to develop goals specific to youth in foster care based on their most recent data, all LEAs should address their unique needs and the equity gaps that exist throughout the state. 
This webinar includes a worksheet for districts to identify their own baselines and tailor the goals, outcomes, actions, and additional activities and services to meet the needs of their local population of youth in foster care. It also includes a "sample LCAP" with specific suggested activities, actions, and goals that can be adopted for local use.