This past weekend, the Alliance celebrated a joyous start to the holiday season. Thanks to our partnership with the court, DCFS, Public Counsel, and our community of pro bono attorneys, more than 230 children and young adults left foster care behind and were happily united with their forever families this National Adoption Day. It was the end of a long road for many of our clients, like Davin, who stepped up to provide stability, care, and a loving home for his nieces.
"I'm very blessed today, and blessed to have these two girls in my life. I'm excited it is now official and look forward to my future with them." — Davin Brooks, Relative Adoptive Parent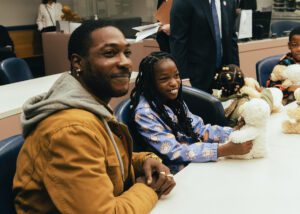 California Chief Justice Patricia Guerrero joined Presiding Judge Samantha P. Jessner in commemorating and welcoming us on this special day.
"I will always remember the first time I handled an adoption proceeding," said Chief Justice Guerrero, "and the joy and celebration that such adoptions bring. Every child deserves a loving home, and adoptive families are committed to giving children the opportunity to thrive in a safe and stable environment."
"For the 24th consecutive year, we are proud to join our partners on National Adoption Day to ensure that hundreds of children in LA County's foster care system can finalize their adoptions in time for Thanksgiving," said Cynthia J. Billey, Director of the Adoption Program at the Alliance for Children's Rights, a co-founder of National Adoption Day. "The more than 391,000 children and youth living in foster care nationwide deserve to grow up in safe and nurturing homes devoted to their health, happiness, and development. We honor the courage and resilience of young people in foster care, we admire and share our gratitude to the dedicated kinship and foster parents who care for them during their times of greatest need, and we are deeply honored and committed to supporting these children and families on their path to permanency."