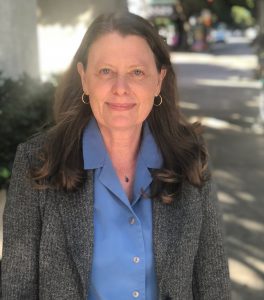 Alliance CEO Jen Braun keeps the radio off as she begins her daily commute, driving from the mountains of Topanga Canyon down the Pacific Coast Highway. "I roll down the windows, no matter the weather, and I listen to the ocean," she says. "Then I roll the windows up and hit the freeway."
By the time she arrives at the office, our attorneys are seeking her advice regarding the day's developments. Jen has had more than a decade of experience in nonprofit legal services, working at Bet Tzedek Legal Services earlier in her career. She spent 15 years in government service, running an office of the U.S. Trustee Program responsible for oversight of the bankruptcy system, and six years in private practice fighting employment discrimination. She came to the Alliance as legal director, and the opportunity to take the helm as CEO followed.
Recently, we sat down with her and asked her to share just a little bit about the person at the head of the organization.
What surprised you about this job?
I knew that I would be moved by our clients. But the full power of their voices on everyone who hears them—policymakers, partners, donors, staff, me—is so profound and lasting, and it cuts through just about everything else.
What is one of your top goals for yourself as CEO right now?
We do very difficult work here at the Alliance. We are constantly fighting for the rights of children and young adults in the most difficult circumstances. I'd like to solidify our infrastructure – strengthening our resources, and our tools for working together and with our partners. A strong, stable base allows you to stretch, to take considered risks to accomplish justice.
What did you want to do when you were 16?
I knew that I was going to be a lawyer. I thought that law school would give me the tools and the power to help improve the world. It was pretty clear to me then that there was a lot of injustice to address, affecting women and girls, low-income communities, and other people outside of the upper echelons of power. My mom was a social worker and my dad was a hand surgeon, with many patients who had been injured in industrial accidents. I think that both of my parents' commitment to helping people in need influenced me. We still are very close.
What keeps you sane and recharges your battery? 
Living in the mountains in a small community and being close to nature. My dog. And my family. With my husband and daughters, I've loved making a home that is both a private place of joy and comfort, and at the same time a place to welcome our extended family of friends. We generally like being the kind of home where any kid can come in and feel cared for, be fed, and feel easy. Gardening is good too. I'm happy having my hands in the dirt, and then seeing things grow.
What's the road not taken in your life?
The obvious path not taken was to remain with the federal government, where I had wonderful colleagues and the opportunity to promote ethical and constructive ways to address debt relief. Or I could have become a bankruptcy judge. I would have been gratified and honored to do that job, which at one point was a possible prospect.
What is the last book you read that you loved?
Americanah, by Chimamanda Ngozi Adichie. Also, All the Light We Cannot See, by Anthony Doerr. They both capture heartbreak and beauty, though in different universes. And they both are stories told through the voices of young people, in new, and truthful, and moving ways.
Last good movie you watched?
The Way Way Back. It's also told from the perspective of a young person. It's a great story about taking on someone who's being mean!
What is the best perk of your job as Alliance CEO?
Working with the staff of the Alliance. When I met this group, I knew that these were people who would inspire me every day. Each person here has a remarkable combination of head and heart. We have people on staff with such depth of expertise, and at the same time they are compassionate and giving in a way that is just spectacular.